IN THE CELLAR
We have a wide range of real ales from a variety of sources that we offer. You will find that we change our range frequently and you will be able to keep track of it all here.
Cask Marque Quality
We've been awarded the Certificate of Excellence in the serving of cask ales - come and taste a pint as it should enjoyed!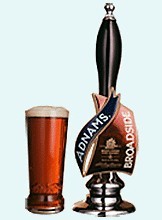 Adnam's Broadside
Adnams Broadside
Broadside's rich flavours make it an instant hit with lovers of premium cask bitter.

I taste almonds, zest and conserved fruit! Mmmmm! I sense a wonderful balance of malt and hop flavours. Broadside is a pint to savour like a fine wine! Gorgeous. ABV 4.7%
Currently we sell approximately 18 gallons per week
Brewery Website
http://www.beerfromthecoast.co.uk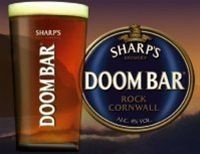 Doom Bar
abv: 4.0%
Amber & Bitter
Doom Bar Bitter embodies many characteristics which makes it worthy to carry the name of this natural wonder. It's distinctive aroma and very fine balance sets it truly apart from other beers taking unsuspecting first time drinkers by surprise with its moreish appeal. Doom Bar has achieved an international cult status, is considered one of the fastest growing beer brands in the UK and is the best selling locally produced beer in the entire South West region.

Brewery Website
http://www.sharpsbrewery.co.uk
Draught Bass
The No1 premium cask a
le in the UK.With a distinctive nutty flavour it is still brewed in Burton on Trent using the original 1777 recipe. Finest ingredients and a unique twin yeast strain gives Bass it''s nutty malty taste. ABV 4.4%