IN THE CELLAR
We have a wide range of real ales from a variety of sources that we offer. You will find that we change our range frequently and you will be able to keep track of it all here.
Adnams Belgian Style Abbey Ale
As part of the Adnams Handcrafted World Beers, our Belgian Style Abbey Ale is now available from selected outlets in cask. A full-bodied golden beer with a fruity & spicy aroma and palate and a low bitterness. Best enjoyed with a mature cheese ploughman's or beef stew perfect for this time of year.
Brewery Website
http://www.adnams.co.uk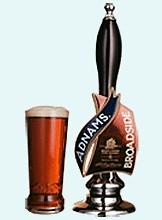 Adnam's Broadside
Adnams Broadside
Broadside's rich flavours make it an instant hit with lovers of premium cask bitter.
I taste almonds, zest and conserved fruit! Mmmmm! I sense a wonderful balance of malt and hop flavours. Broadside is a pint to savour like a fine wine! Gorgeous. ABV 4.7%
Currently we sell approximately 18 gallons per week
Brewery Website
http://www.beerfromthecoast.co.uk

Courage Directors
A real classic. This strong English ale is ruby tinged and has a distinctive rich fruity flavour underpinned by dry hoppy undertones. Originally this superior ale was brewed exclusively for the Directors of the brewery. Thankfully though, they were eventually persuaded to make it publicly available for all to enjoy.

Enjoy on draught in selected Young's houses.
Note from the Head Brewer
"A full drinking classic London premium ale with a delicious balance of fruit and hops."
ABV 4.8%